Management Philosophy
We provide high-quality and reliable services and products,
and always looking for ways to improve even more.
Basic Policy
Understand customer needs and satisfy them.

We identify customer needs and provide reliable services and products in support of their objectives.
That leads a customer satisfaction.

Trustingl relationships

We cherish trusting relationships between people.
We keep growing everyday in order to maintain improve our customer relationships.

Quality control

Through continuous skill andquality checkmanagement systems effectiveness improvements,
we consitently provide stable products and services with superior quality.

Consistent quality efforts

We alway keep the worst possible scenario in mind as we develop and continuously improve systems to prevent accidents.
We also prepare mitigations for any potential large disasters or accidents, allowing us to quickly impelement prompt recovery protocols.

Ecological consideration

We are committed to using resources and energy efficiently, and also the promotion of recycling and waste reduction systems.

Work environment

We actively support high levels of employee physical and mental health, as well as workplace health and safety.
History
July,
2002

Registered the company in Bangkok city.
Capital 20 million Bhat
September,
2002

Bought land in the Amatanakorn Industrial Estate area.
Started building a factory of 5,916㎡ (3 rai 279 tarang wah)
February,
2003

Received the BOI investment promotion certification from Thailand (automobile parts, multiforming --> Second zone)
March,
2003

Capital infusions to raise the total to 54,175,000 Bhat.
March,
2003

Completed the construction of a factory in the Amatanakorn Industrial Estate area.
nstalled machinery (initial installation)
July,
2003

Applied ISO/TS16949.
August,
2004

Acquired ISO/TS16949.
December,
2009

Acquired ISO/14001:2004.
December,
2013

Built a new factory building.
13 rai 190 tarang (21,560㎡)
November,
2018

Acquired IATF16949 2016 certification.
Company Profile
Company
name

KANPATSU(THAILAND)CO.LTD
Established

July 1st, 2002
Operation
started from

May, 2003
Capital

54,175,000 Bhat
Management

President Tunetoshi Toyokawa
CEO Tadashi Toyokawa
Employees

104 (including 2 Japanese staff)
Address

Amatanakorn Industrial Estate
700/493 Moo 7, Tambol Don Hua Lo, Amphur Muang,Chonburi 20000
TEL:038 - 454135-9 / FAX:038 - 454140
Premises
physical area

13 rai 190 tarang (21,560㎡)
Office
building size

3,220㎡
Factory
building size

3,825㎡
Business
Details

Production of automobile parts (seat belts, etc.)
1. Precision metal press
2. Precision plastic molding (insert, etc.)
3. Multiforming precision leaf springs/springs production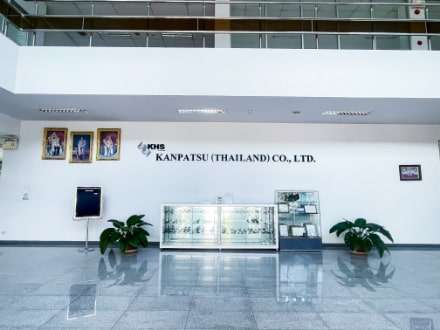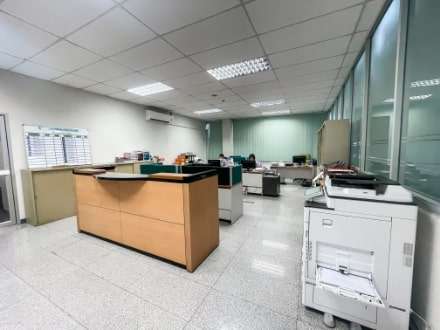 Press Equipment
Press Equipment
| Manufacturer | Product Name | Model | No. of units |
| --- | --- | --- | --- |
| Amada | TPWL-300 2Point Link Motion | 300t | 2unit |
| Amada | TPWL-200 2Point Link Motion | 200t | 3unit |
| Amada | TPL-200 1Point Link Motion | 200t | 2unit |
| Amada | TPL-110 1Point Link Motion | 110t | 1unit |
| Amada | NC-1 80 | 80t | 2unit |
| Amada | TP-60 | 60t | 1unit |
| Amada | TPL-45 1Point Link Motion | 45t | 1unit |
Single Press
| Manufacturer | Product Name | Model | No. of units |
| --- | --- | --- | --- |
| Amada | TP-80 | 80t | 4unit |
| Amada | TP-60 | 60t | 1unit |
| Komatsu Industries Corp. | OBS60 | 60t | 1unit |
| Chin Fong | OCP-60E(S) | 60t | 1unit |
| Chin Fong | OCP-60E(L) | 60t | 1unit |
| Amada | TP-45 | 45t | 1unit |
| Amada | TP-35 | 35t | 1unit |
| Amada | TP-25 | 25t | 3unit |
| ASAI CORPORATION | HD 50H Hydropress | 5t | 1unit |
| Koei | KPH-10M Hydropress | 10t | 4unit |
Molding Machines
Manufacturer
Product Name
Model
No. of units
Toyo Machinery &
Metal Co., Ltd.
TM 130 H2 CNC
Folding Machine
130t
1unit
Toyo Machinery &
Metal Co., Ltd.
Si-130V Horizontal
Injection Molding Machine
130t
1unit
NISSEI PLASTIC
INDUSTRIAL CO., LTD.
TNS 100R S 12V
Vertical Injection Molding Machine
100t
1unit
NISSEI PLASTIC
INDUSTRIAL CO., LTD.
THX 100-12V
Vertical Injection Molding Machine
100t
1unit
NISSEI PLASTIC
INDUSTRIAL CO., LTD.
THX 100III-18V
Vertical Injection Molding Machine
100t
1unit
NISSEI PLASTIC
INDUSTRIAL CO., LTD.
THX 60-9V Vertical
Injection Molding Machine
100t
1unit
Toyo Machinery &
Metal Co., Ltd.
ET-80V Vertical/Horizontal
Injection Molding Machine
80t
2unit
NISSEI PLASTIC
INDUSTRIAL CO., LTD.
THX 60-9VJE Vertical
Injection Molding Machine
60t
4unit
NISSEI PLASTIC
INDUSTRIAL CO., LTD.
TH 40-5 VSE Vertical
Injection Molding Machine
40t
1unit
Inspection Equipment
Equipment name
Model
No. of units
Image Size
Measurement Device
IM-6225
1unit
Tensile Tester
AG-100kNXplus
1unit
Hardness Scale
MFD.NO.34047
1unit
Automatic 3D Measure
GB3102KJ
1unit
Shape Measuring Device
CV-310054
1unit
Image Measurement Device
KIM-2010N
1unit
Image Measurement Device
SVP-3020
1unit
Projector
20-4600
1unit
Spring Load Meter
FSP-100B
2unit
Automatic Spring Load Tester
HPC-A
1unit
Maintenance Equipment
| Equipment name | Model | No. of units |
| --- | --- | --- |
| Plane Grinding Machine | 515H | 1unit |
| Plane Grinding Machine | ACC84SA1 | 1unit |
| Molding Grinding Machine | NSG-6HD | 1unit |
| Molding Grinding Machine | ACC450CV | 1unit |
| Upright Drill Press | YD565N | 1unit |
| Milling Cutter | VHR-SD | 1unit |
| Band Saw | V-500 | 1unit |
| Lathe | TSL-550 | 1unit |
Other Processing Facilities
| Equipment name | Model | No. of units |
| --- | --- | --- |
| Batch Furnace | A14 | 1unit |
| Batch Furnace | T-5 | 1unit |
| Shot Peening | TC-60 | 1unit |
Leveler
| Equipment name | Model | No. of units |
| --- | --- | --- |
| Cleaning Booth | SCTH2E63-01B09 | 1unit |
| Leveler | HI FLAT RP5-151 | 1unit |