Our Philosophy
Engaging our customers with sincerity and passion.
Committed to maintain trustful partnership for ongoing success.
Environmentally friendly manufacturing and contribution to a better society is our goal.
Company Policy
Globally focused on developing markets with creativity and skills required to address needs now and in the future,Committed to high quality to foster customer satisfaction and trust.
PresidentTakuya Toyokawa
History
September,
1952

Founded YUTAKA Spring in Joto-ku, Osaka city to machine chassis and various coil springs.
September,
1953

"Kansai Springs" established.
Capital: 3 million yen
August,
1960

Established Ikoma Factory (Nara).
August,
1971

Capital 43 million yen
September,
1972

New factory opened at Kitatawara, Ikoma city.
February,
1980

Opened a fully operating press factory (2500㎡) on head quoter premises.
September,
1982

Celebrated our 30-year anniversary.
1983

Introduced Production & Stock Management Systems to all factories.
June,
1991

Built a press factory and added robot lines.
July,
2003

Established KANPATSU (THAILAND) CO.,LTD.
March,
2003

Acquired ISO9001 certification.
June,
2003

Started operation of KANPATSU (THAILAND) CO.,LTD.
March,
2013

Capital 72 million yen
December,
2013

KMoved KANPATSU (THAILAND)CO.,LTD to a new factory.
July,
2014

Started operation at Toyonaka Factory (Osaka).
August,
2014

Added a facing production line.
August,
2015

Takuya Toyokawa appointed company president.
August,
2017

Added a small size heat press production line.
January,
2020

Added a large size heat press production line.
June,
2021

Awarded a government subsidy to develop new business initiatives.
January,
2022

Awarded a government subsidy for manufacturing.
August,
2022

Implemented a press machine with automatic tester and DX systems specialized for traceability management.
Company Profile
Name

Kansai Spring MFG. Co., Ltd.
Established

September, 1952.
Capital

72 million yen
Number
of employees

48
Phone

+81-743-78-0588
Business
Details

・Automobile parts and lighting parts
・Coil springs
・Press works
・Flat springs
・Wire processing
・Ring forming
・Plastic works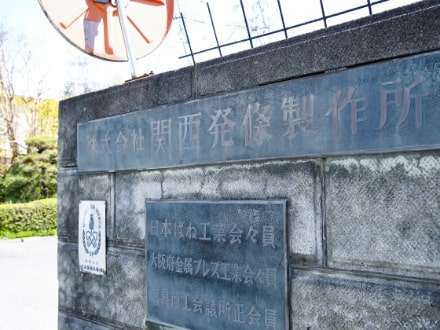 Factory Details
Location

Kitatawara-cho 1768-1,
Ikoma city, Nara
Premises
area

3300㎡
Building
size

2500㎡